Signe, 100 år
Originally uploaded by ArneA.
Dagens blogg er skrevet av Tullen:

Mamma er 100 år,
Og vi gratulerer igjen og igjen.
Hun kom til verden 28.mars 1906, og den utviklingen hun har vært med på fyller mer enn ett bind i en historiebok. Fra en oppvekst uten elektrisitet, til en verden med trådløs internet, via telefon,TV, mennesker på månen, transplantasjoner innen medisin, og to verdenskriger.
Hun har sett to barn, fem barnebarn og fem oldebarn vokse opp. Hun har vært til stede for oss og alltid vært en støtte når vi har trengt det.
Livet hennes har vært rikt, og hun er fremdeles en dame med sterk vilje.
Mamma er sliten nå, men hun har sine gode stunder.
Vi besøker henne i dag med blomster og bløtkake, og brev fra kongen.

Hjertelig tillykke!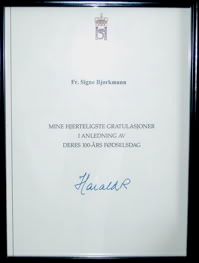 Se også en liten video fra feiringen